3 Things to Watch Out for to Protect Your Oral Appliance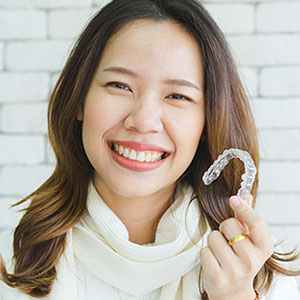 If you're one of the millions of people wearing an oral appliance, you already know how important it is to your dental health. Whatever the purpose—replacing teeth, stopping teeth grinding or guarding against injury—you want to get the most and longest service from it. That means showing your appliance some tender loving care on a regular basis.
It doesn't require a lot of time and effort to clean and maintain your oral appliance. But there are some pitfalls that could lead to greater wear and tear and just outright damage. Here are 3 things you should be on the alert for to keep your appliance doing its job for you.
Be careful how you clean it. Your appliance might resemble natural oral tissue, but it's not—so don't use toothpaste. Toothpaste contains abrasives, which are fine for tooth enamel but damaging to materials in your appliance. Instead, use dish detergent, hand soap or a specialized cleaner. Don't use hot or boiling water, which could soften any plastic and distort the appliance's mouth fit. Nix the bleach too, which can fade colored portions of the appliance that mimic gum tissue.
Don't wear them 24/7 unless your dentist advises. Depending on the type and function of your appliance, you shouldn't wear them around the clock unless your dentist advises otherwise. Dentures are usually removed at night while you sleep to help prevent bacterial growth. Keeping them out at night -and keeping them clean—will help lower your risk of dental disease. One caveat, though: there are some concerns today about the effect of keeping dentures out of the mouth at night on sleep apnea. It's a good idea, then, to discuss the issue with your dentist regarding taking dentures out at night.
Prevent accidental drops on hard surfaces. Chewing forces are considerable, but your appliance is designed to take it. The same can't be said, though, if they accidentally fall on a hard surface—the fall could crack or break them. To protect against this, be sure to put a soft towel or cloth in your sink basin while you're cleaning your appliance. And don't place it on a night stand or low surface where it could be knocked off accidentally by a child, a pet or you. A sudden accident like this could be costly.
If you would like more information on extending the life of your oral appliance, please contact us or schedule an appointment for a consultation. You can also learn more about this topic by reading the Dear Doctor magazine article "10 Tips for Cleaning Your Oral Appliance."